Olympus OM-D EM-5 review
Tuesday, October 23rd, 2012 at 20:49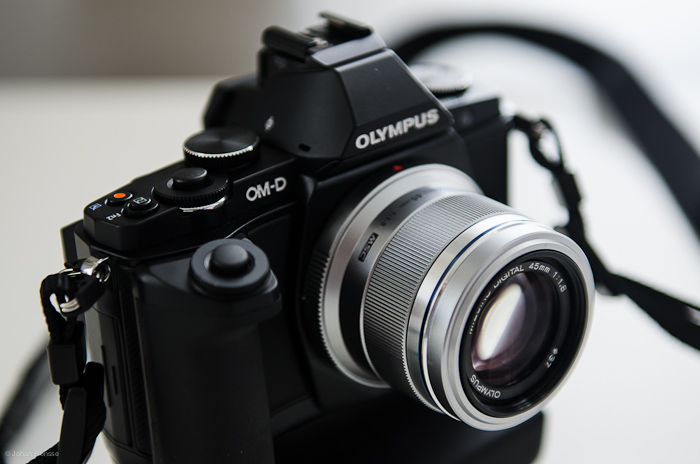 Wow. This camera left me dazzled by it's capabilities. It just – works.
I've been exploring the Micro 4/3 breed of cameras lately, first testing the Fujifilm X-Pro 1 and now the Olympus OM-D EM-5. To clarify Olympus' naming scheme, OM-D is the name of the system, and EM-5 is the name of the model.
Here's the kit I got to test (prices based on actual price 21/10/2012):
| Description | Price | Price source |
| --- | --- | --- |
| Olympus EM-5 (OM-D series) with 12-50mm kit lens | €1299 | Digicamshop.be |
| Olympus M. Zuiko 45mm F/1.8 prime | €299 | Digicamshop.be |
| Olympus M. Zuiko 12mm F/2 prime | €649 | Digicamshop.be |
| Olympus HLD-6 Battery grip | €250 | Foto Konijnenberg |
| Olympus Olympus FL-LM2 flash | €58,95 | Foto Konijnenberg |
Build and handling
First of all, the EM-5 makes a great impression in the looks department. It has a sweet retro look. It's actually styled after the original 1972 Olympus OM-D camera.
When you pick up the EM-5, it feels a bit loose in your hand, especially when using the relatively big kit lens. Things get better when you add the first part of the optional grip – losing some portability in the process.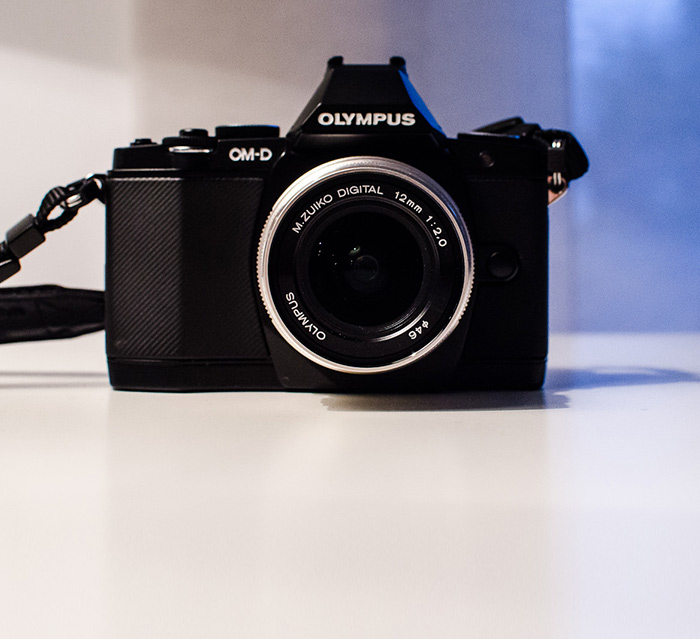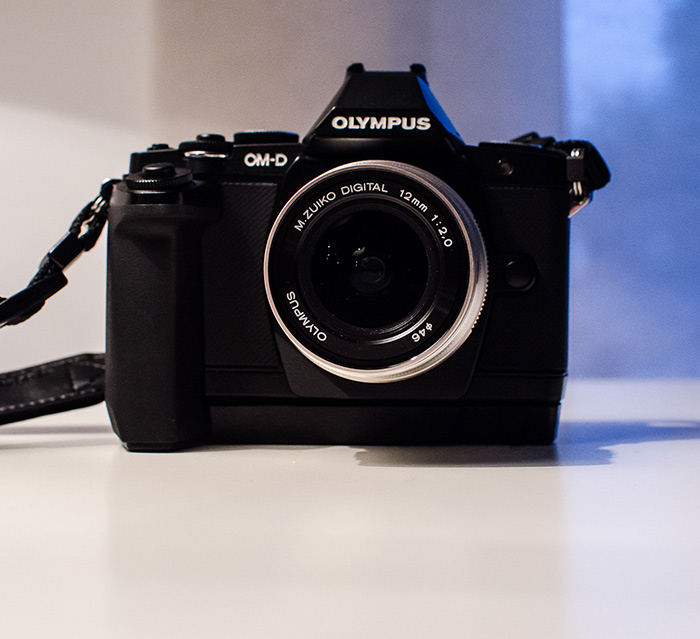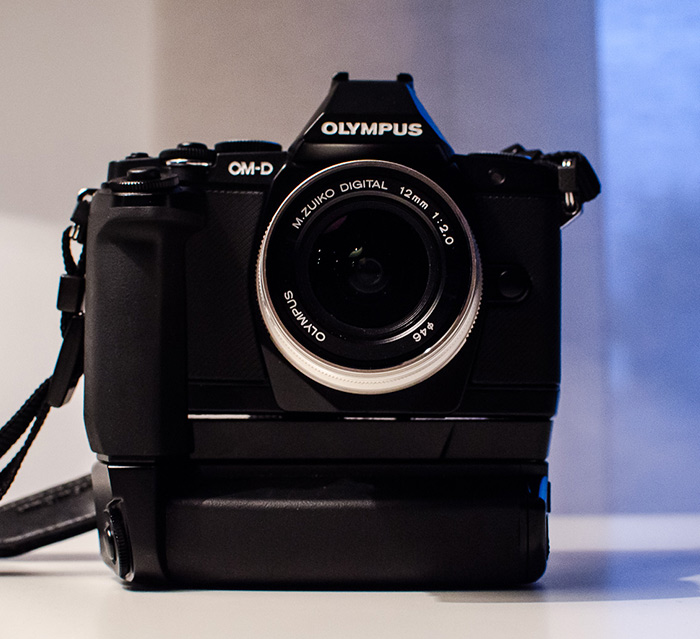 Click/tap the pic to add a grip!
There's a second part to the grip that adds vertical controls, an extra battery slot and a DC power input. Since the grip comes in 2 parts, this means you can actually use the EM-5 in 3 sizes, click/tap the pics to see how it works.
I only really used the first grip part. This accessory is €250 which seems a bit excessive for a grip that I would only use partly. I would like it if Olympus sold the first part of the grip separately.
Talking about the battery – the battery life is OK but not super great. It will definitely need charging after a day of shooting. If you're shooting video I would take a 2nd battery with you.
Back to the controls. There is a 2 dial system on top of the camera. You can customize this to your liking. I mostly used this for shutter speed and exposure compensation.
As with many micro 4/3 cameras there is no dedicated ISO button. This is a bit of a shame since I want quick access to this function without lifting my eye from the camera. You can set up one of the two FN buttons to be your ISO button. However, changing the ISO triggers a menu and is nowhere as handy as on my Nikon. I want to dial and set, I don't want menus.
On the plus side, unlike the X-Pro 1, you can set the auto ISO to a range (e.g. 200-1600). This is very helpful and in practice you can mostly stop worrying about the ISO. ISO 1600 images come out without too much noise. Going up to 2500 or even 4000 can yield acceptable results depending on the use case.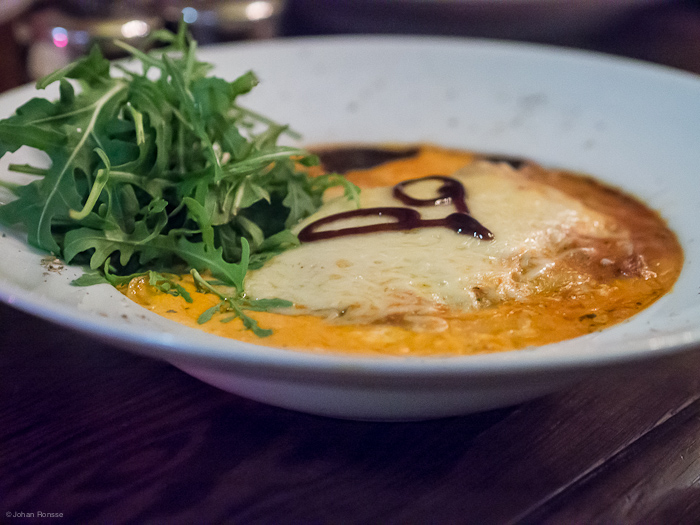 Lasagna in a dark restaurant, F2, 1/60, ISO 4000
The button placement is good overall, with some exceptions. The button to view images is very small and hard to reach. The on/off switch is in an awkward position on the back making it impossible to activate and shoot the camera with 1 hand.
What's nice is that you can set each and every button to your liking. The software is a bit complex but my inner geek liked the peace of mind that I could set any button the way I wanted to. You can even change how buttons should function in the different modes. You can't change everything but the amount of customization possible is impressive.
Manual focus
Manual focus works nicely enough, I don't often use it (I prefer picking a point for the AF system to focus to), but it's there when you need it and works well.
Tiltable touch screen
One of the best features of the EM-5 is the tiltable touch screen. You can tilt the touch screen to easily make top-down pictures while still seeing what you're doing. You can tap the touch screen and the EM-5 will focus where you tapped and snap a picture.
For example, this fire picture was made this way: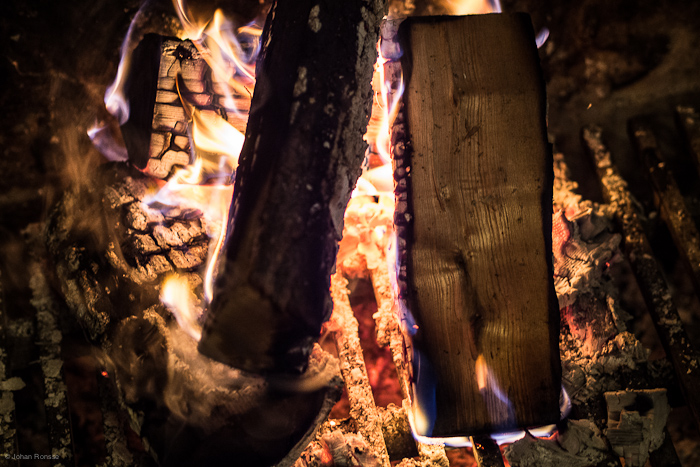 Fire, 45mm F1.8, 1/50, ISO 1000
In terms of usability it very much feels like taking a picture on your phone and that's a good thing. It's easier to take a spontaneous picture if it's just a tap away. I've taken pictures that I otherwise would have missed.
Note that the touchscreen doesn't work when wearing gloves, just like your phone.
When reviewing pictures you can swipe through them on the touchscreen. This works but it's not like swiping smoothly on something like an iPhone. I was surprised it worked in the first place!
EVF
The electronic viewfinder rocks. It's the best EVF I have used so far. The tech behind it is a 800×600 pixel OLED LCD. I didn't really miss not having an optical viewfinder.
Shooting modes
Besides the regular "single shot", there's a burst mode that shoots in 9 fps, and a timer mode (2 seconds or 12 seconds). I have no doubts there is a setting for the length of the timers. Did I mention the amount of settings on this camera is crazy?
There is no focussing in this mode (focus is set on the initial shot). If you want focus tracking, the speed goes down to 4.2fps, which is still pretty fast.
The 9fps burst mode is a thing of beauty allowing you to capture the action, sometimes in a much better way than with a DSLR. Because the camera is mirrorless there is no mirror that has to go up and down so it's much easier to make the camera have a fast burst mode.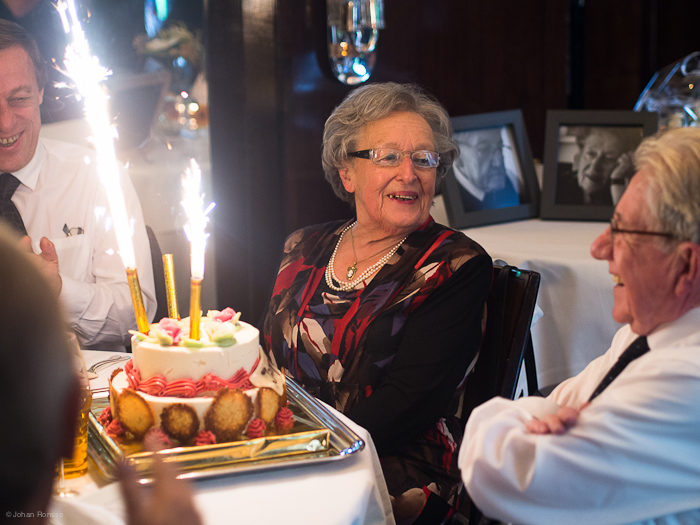 Capturing the moment. (45mm, ISO 800, F1.8; 1/80s)
If you want 9+ fps on a DSLR you either have to look at Sony's alpha or purchase the priciest Nikon or Canon models (e.g. the Nikon D4, think €5k).
Software/RAW files
The LCD has a deceptively good image quality. Sometimes a photo looks really good on the LCD, even zoomed in, but it dissapoints when looking at the actual file on your PC. Double checking for focus is necessary (but this counts for any camera). I missed a quick button to zoom in/out on the focal point.
The EM-5 takes 1 SD card for storage. A single 32 Gb SD card will store 2000+ RAW pictures so you're likely to never run out of space. SD cards are cheap these days, e.g. €40 for 32Gb.
The camera files are 16MP, that's big enough for most purposes. No complaints here. The RAW files also seemed great, no problems here. One minor issue I found is that the auto white balance is not as reliable as on my Nikon. Luckily this is easily correctable.
Flash mount
The EM-5 has a standard flash mount. There is no flash by default.
There are a ton of flash (and other) accessories for the EM-5. It's outside the scope of this review to detail everything. Check out this page to see a range of what is available. From multiple types of flashes to an underwater case (!).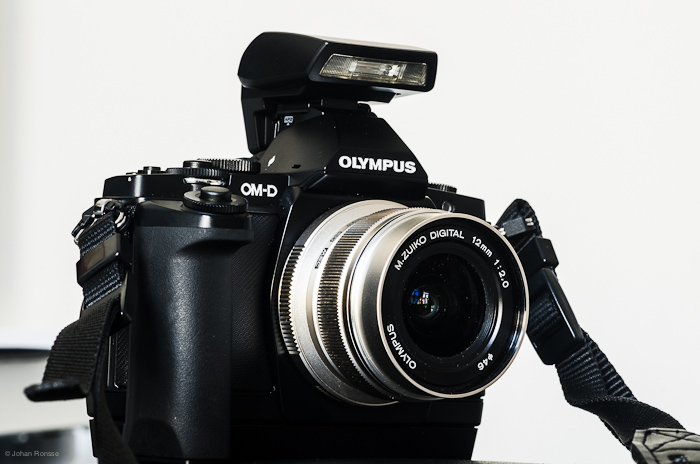 Small detachable flash
In my test kit I got a small detachable flash. It wasn't very good — suffering from the classic "small flash" issues — but would definitely suffice for some party snapshots.
In my testing, I have succesfully used my Nikon flashes (in manual mode). This of course adds a lot of bulk but it's good to know that I can do this.
Since the EM-5 also works with my cactus triggers, I can imagine a strobist setup with a specific lens (think macro/fisheye) I have in my (micro) 4/3 collection, but not in my DSLR collection.
Stabilization (IS)
This camera has a 5-axis stabilization system, which corrects for horizontal movement, vertical movement, diagonal movement, rotation around lens axis etc.; I can't really say too much about this except that I had a better success rate in shots in focus than with the X-Pro 1. I had the IS mode on all the time.
Lens lineup
Generally the lens lineup is great. Check out this page on the EM-5 site for a full list. Compared to the X-Pro system which only has 3 lenses available at this point in time, that's a lot.
All Micro 4/3 lenses (e.g. Panasonic, Samyang, Sigma lenses) will work with the EM-5 and using a converter you can attach regular 4/3 lenses to it.
The 4/3 standard ensures that if you ever switch bodies there's a good chance your older lenses will still work. I like standards.
Pocket-a-bility of EM-5 and lenses
In general, the EM-5 is too big to be pocketable. If you use it without grip and with a pancake lens, it might work, depending on the size of your pockets :).
12-50mm kit lens
The kit lens is a 12-50mm lens with an aperture range of 3.5 to 6.3 on the longer end.
It sounds a bit boring from that description but actually it is surprisingly versatile. It has a really flexible range from really wide to portrait.
Since the aperture range is 3.5-6.3 and the EM-5 sensor is not that big, you're going to have to bump up the ISO pretty hard in dark situations – especially when you're shooting at the longer end (thank Olympus for auto-ISO with a maximum).
There is no lens hood, some of these lenses are over €500, I don't understand why this is a separate accessory. That's just being cheap.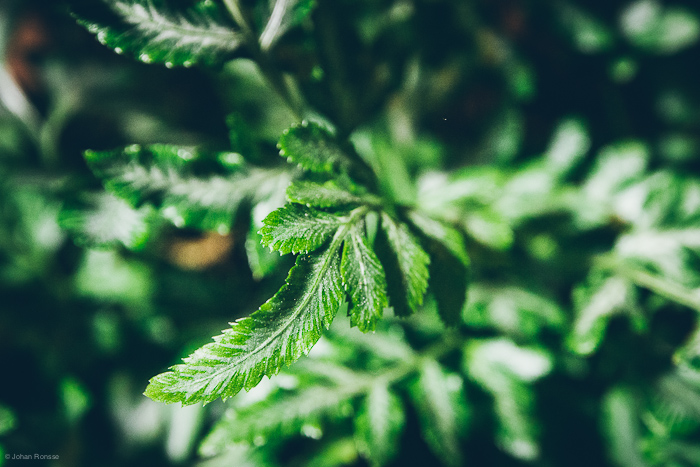 Another macro shot with the kit lens.
The lens has 3 modes, "macro", "electronic zoom" and "manual zoom". I talked a bit about the macro mode before. Manual zoom is like any other DSLR zoom lens.
Electronic zoom locks the ring in place; you can zoom in and out by turning the lens slightly to the left or slightly to the right. This works like zooming on a video camera.
Unfortunately I haven't tested the video capabilities of the camera, but if you're into video I can definitely see this camera having good use.
It's weather sealed so you can take some pictures in the rain without worrying about the camera.
There is a customizable FN button on the lens, so you could for example map "AF lock" to that button.
Olympus M. Zuiko 45mm F/1.8
This thing is SHARP. The 45mm prime delivers stunning pictures and the whole thing is hyper-fast.
There is a definite quality difference between photos taken with the 12-50mm and the 45mm lens. With the 12-50mm most of my results were OK, while the 45mm lens delivered some truly great pictures.
It's a true portrait lens and doesn't have too much use outside of portraits (and details of objects). It's equivalent to 90mm in 35mm terms. The focussing distance is 0,5m so in general use you will often find that there is not enough distance between you and your subject.
You really need to be more than 2 meters from a person to take a good portrait type picture. It doesn't come with a lens hood, which is a bit of a shame. The optional LH-20B hoods retails for around €25.
The bokeh is nice and round: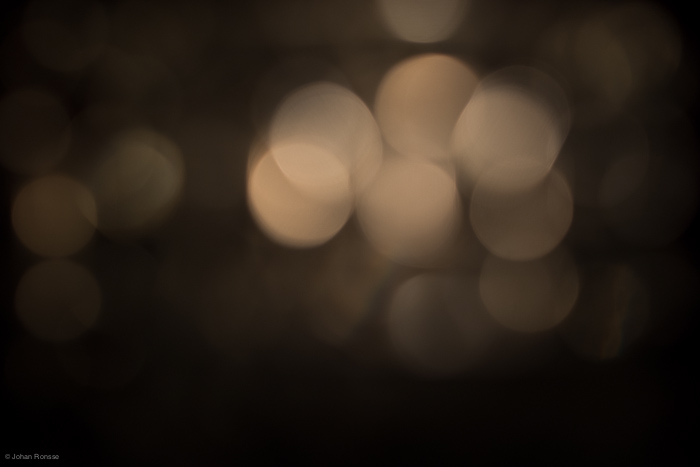 45mm bokeh
Olympus M. Zuiko 12mm F/2
The 12mm — effective 24mm as 35mm equivalent — shares a lot of common traits with the 45mm. It even looks (almost) the same. The differences: the focal length, 3x as expensive, and F2 instead of F1.8.
The 24mm focal range gives you the flexibility to take wide shots: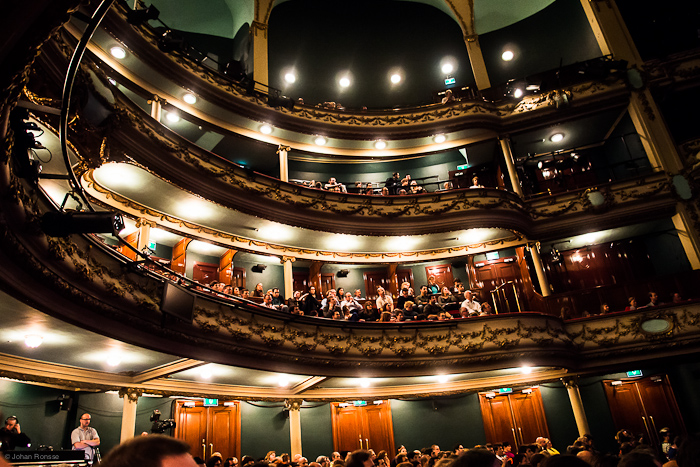 The wide range allows you to capture the whole scene. This setting (Flemish Opera, Antwerp, with audience lights on) was a bit too dark to still look good. The F2 aperture obviously helps in low light situations.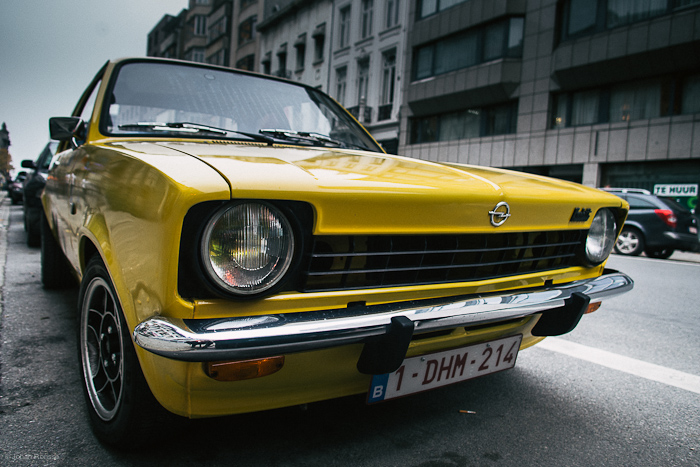 This was shot just in front of the car, with a car parked right in front of it.
The €649 price tag is pretty steep. If you are investing in a 4/3 lens collection this would probably not be your first lens. The €239 Olympus M.Zuiko Digital 17mm f2.8 Pancake would probably be a more logical choice, although I can't say much about this lens since I didn't test it (yet :)?).
More pictures
Here's some links to example pictures I posted before: 1, 2, 3, 4, 5, 6, 7, 8, 9, 10, 11, 12, 13. I also uploaded some full resolution JPGs to flickr. All of these are edited in LR4 for contrast and tone. I rate cameras on the quality of edited pictures since I edit all my pictures anwyay.
Conclusion
The OM-D EM-5 is a wonderful camera. It far exceeded my expectations. I'll be doing some further testing in the Micro 4/3 arena — I'm looking for a pocketable setup — but this one is very high on my wishlist.